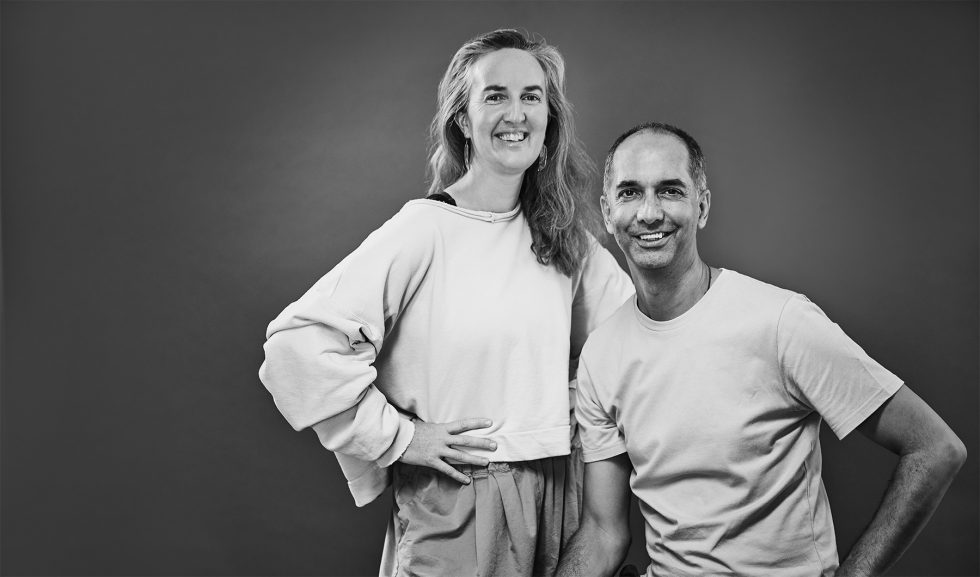 Teacher Interview: Karla Brodie and Neal Ghoshal talk about the powerful practice of Restorative Yoga
Restorative Yoga practices are now part of many Yoga classes. Karla Brodie and Neal Ghoshal have a combined 35 years of experience teaching Restorative Yoga in classes and courses, to individuals and through in-depth retreats, as well as tailored workshops and teacher trainings.
Ahead of their next Restorative Teacher Training beginning in June they share their passion for Restorative Yoga with fellow teacher and Contemporary Yoga administrator, Sandy Farquhar.
Sandy: How is Restorative Yoga distinctive from other yoga approaches?
Neal: In essence, Restorative Yoga is a well-being practice. Of course, all Yoga may be about well-being. Restorative Yoga is distinguished by the conscious use of props such as Yoga bolsters, blankets, blocks and more, to support the physical body.
When we fully support the body, we create a space for deep and profound relaxation and rest. At its heart then, Restorative Yoga is about resting.
We may use various Restorative Yoga postures to create different physiological and energetic effects - ultimately to meet where and how we are at any given time. I tend to practice Restorative Yoga in the evening, resting after a busy day of teaching or other work.
Sandy: Isn't Restorative Yoga all about lounging about on blankets and falling asleep – how is that yoga?
Neal: A question at the centre of Yoga is: Who am I? So with Restorative Yoga, one could inquire: Who am I when I am rested? Who am I when I am less stressed? Who am I when I slow down? Who is it that emerges from a place of deep relaxation? How do I respond to life from this more settled place within me?
I much prefer the person I am when I am more rested and relaxed. All my interactions with colleagues, friends, family tend to be more responsive. I make wiser choices!
I also see Restorative Yoga (and Yoga in general) as meditation (asana as a movement meditation), an opportunity to be present with ourselves. And … perhaps there is nothing wrong with lounging about on blankets and falling asleep … maybe we all need to do more of that! Our pets are masters of Restorative Yoga!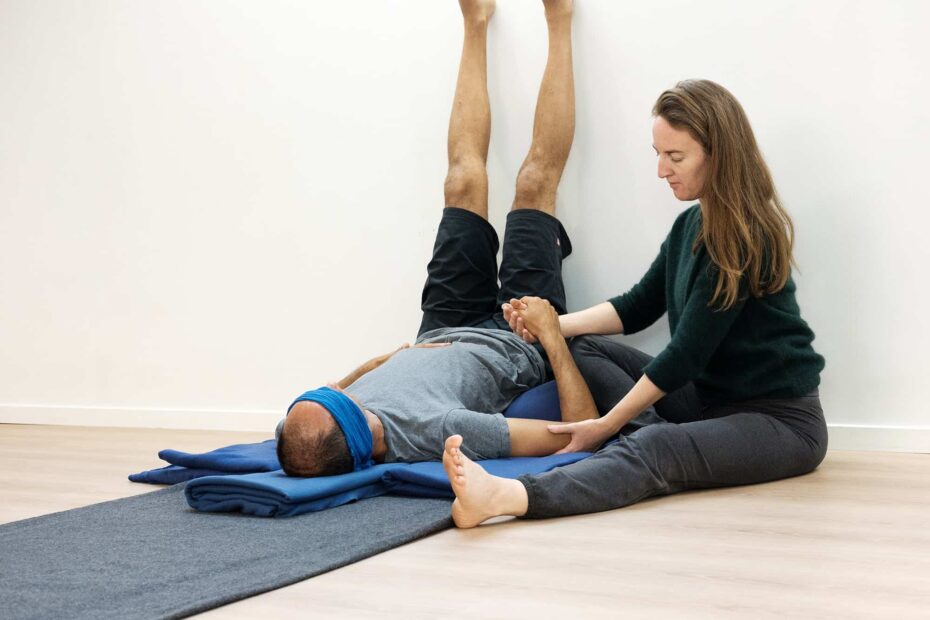 Sandy: Where did Restorative Yoga originate?
Karla: We acknowledge many teachers in our development of Restorative Yoga.
To quote our own Restorative Teacher Training Manual:
Restorative Yoga emerged from the teachings of BKS Iyengar who pioneered the use of props to support the body in Yoga postures; optimise the beneficial effects to body systems; and promote effective healing from injury, imbalance or illness.

Students of Iyengar, such as Judith Lasater, have promoted and written extensively on the Restorative approach. We recognise these influences on our teaching although we have never personally studied with BKS Iyengar, or much with Judith Lasater.
Primarily, Donna Farhi has been our most significant teacher.
Her integrity and exemplary development of this practice has been highly influential on our Restorative teaching approach. Above all, our greatest teachers have also been our students who have, over many years, helped innovate and refine the postures and practice.
Sandy: When and why did you begin your own Restorative Yoga journey?
Karla: I began learning Yoga from the age of 15 and started a three-year Yoga apprenticeship in 1999. Restorative Yoga was part of weekly classes taught at the centre.
One of the first classes I was given as a young teacher was a new Friday night Restorative class. Fairly quickly it became quite popular. From the beginning, I was interested in adapting the more traditional postures for individual students to enhance ease and self renewal.
My students were and still are my greatest teachers. Donna was hugely influential too, her approach to Restorative postures enlivened my understanding of essential anatomy of the spine, joints and organs, and how the body could be supported in a more nourishing way.
Neal: I still remember my first Restorative Yoga experience - back in 2005. I was on a year-long teacher training and one weekend the teacher took out some bolsters and brought us into a supported bridge shape. After three minutes, I experienced a profound relaxation response - it was like my whole body sighed out and softened. I could have stayed there for hours and it felt beautifully nourishing and enjoyable.
I emerged from the practice convinced that this was a style of Yoga I wanted to investigate fully. So I sought out teachers who were offering Restorative Yoga, and by lucky chance, Karla was teaching at the same Yoga centre.
Karla offered a few of us teachers a mini Restorative training and I was so hooked by this time I researched and created my own mini Restorative training manual for my own use.
Sandy: You both credit each other as being significant influences on your Restorative Yoga practice and teaching. Talk a little about how that all began.
Neal: So Karla was offering these highly popular Friday evening Restorative classes at the studio (they're still going!) and I would travel over from Waiheke just to take in a class and learn. We struck up a friendship which continues to grow and deepen to this day.
Karla: Neal joined in a short Restorative training I was offering at the Yoga Centre. I literally hand wrote a manual, offering many of the variations of Restorative postures I had been innovating with students.
We (Neal and I) struck up a great friendship around our shared love of Restorative practice that organically evolved into offering residential retreats, as well as the creation of Contemporary Yoga.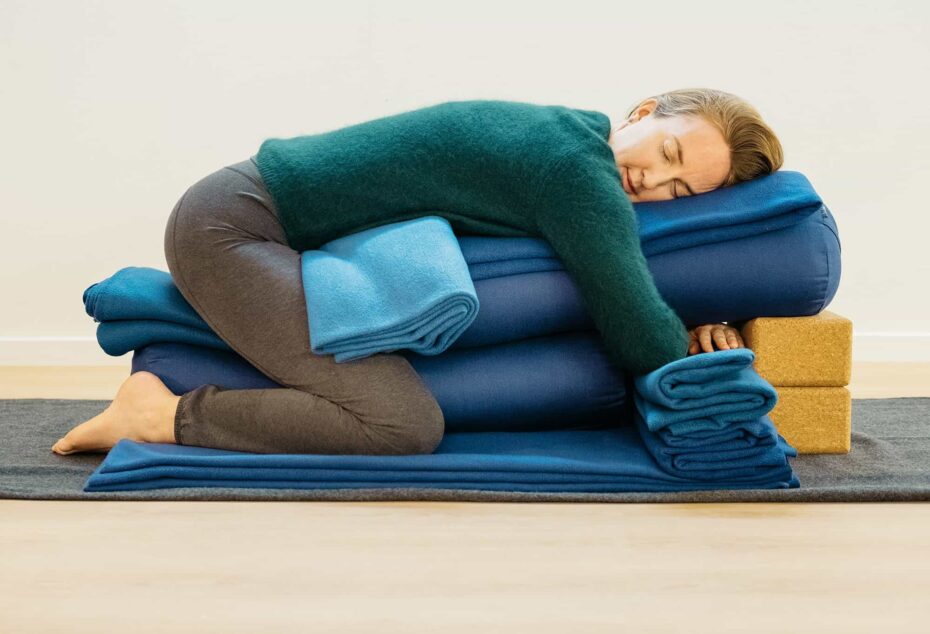 Sandy: You run Restorative Workshops for teachers throughout New Zealand, as well as a 70+ hour Restorative Teacher Training most years. What are the key learnings that students will take away from these workshops and trainings?
Neal: On shorter courses we are planting seeds … questions and ideas about what is Restorative Yoga. We also share many of the setups for the foundational Restorative Yoga postures - people really get to experience the practice.
On in-depth trainings we have time to explore and experience a whole range of postures and many variations. We learn and grow the skills to be creative with the practice and see how we can support all different types of people, body types, conditions, etc.
I love the longer trainings as there is time to share the practice, without any need to rush to fit things in. Students also have opportunities to teach and share what they learnt with others - mini teaching practicums to grow their confidence in offering Restorative Yoga.
Sandy: Share an experience that in some way epitomises each other's Restorative Yoga practice.
Neal: Ahh - there have been so many. I completely love the moments towards the end of a Restorative Yoga Retreat, after a whole weekend, just observing people's softened faces, the smiles, a kind of lightness in their being, after what has really only been a couple of days of conscious resting.
Karla: There's often long moments in Neal's classes where everyone and everything feels completely still, a resonant stillness. I find a deep ease here. There's such a potency and power to sentient beings standing, dancing, singing, meditating and resting together.
Restorative practice to me is a being practice. One where all we have to do is be. I'm very grateful to be sharing this practice and to have friends, colleagues and students to be a part of its evolution here in Aotearoa.
Sandy: Why is Restorative Yoga so important in the world right now?
Karla: Restorative practice may support a really good night's sleep.
Neal: Restorative Yoga is in some way a more "advanced" practice (although I dislike the word advanced as it has a hierarchical connotation).
What I mean is that the practice is about slowing down, resting, being. Our culture seems to be built on how productive we can be, how much we can achieve and keep on achieving. It can feel as if nothing is ever enough.
We can even observe this within the Yoga community itself. As a teacher I often witness the striving for a bigger practice, a more "advanced" practice, the strain to push the body towards more extreme positions, and students over-riding the pain signals which come with such a practice. I've been there myself - in the first few years of my Yoga I pushed my body into postures I saw in books (which had titles such as 'Learn Yoga In A Weekend'), demonstrated by people with an alarming degree of flexibility.
Whilst our culture promotes a never ending amount of doing, Restorative Yoga is the radical, counter-cultural experience of simply being. Yes - there is the effort required to turn up for the practice, to engage in practice, but essentially it is a process of surrendering, an active letting go, of yielding.
It's a brilliant antidote to our modern way of living.